Introducing the All-New 2018 Ford F-150 Pickup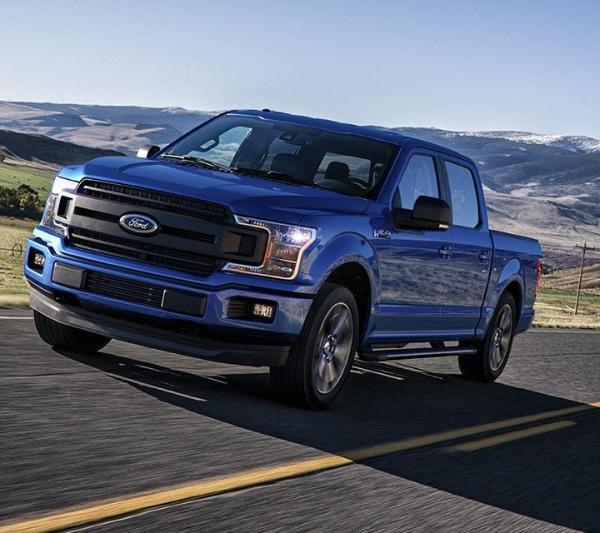 It doesn't feel like a moment since the Ford F-150 was unveiled in its thirteenth-generation form with a new look and those much-vaunted space-age aluminum body panels. But that was 2015 and this is now, and today we're ready and waiting for the 2018 Ford F-150 to pick up the baton. So, let's take a look at what to expect from this latest version of the all-conquering F-150 for 2018.
Exterior styling
Considering how it took around seventeen years for the Super Duty models to get a new-generation, it won't shock many people that the 2018 Ford F-150 only gets a relatively mild refresh to its exterior styling. The tweaks we see this time around run right across all the truck's trim levels, so they all get a new grille and headlamps that are very much in-line with what we've already seen with the redesigned Super Duty models. The twin grille bars on Lariat trims of the F-150 equipped with the Sport package get colour coding, while new taillamps and a more sculpted tailgate with an imposing F-150 logo stamped into it are introduced to all models. The King Ranch, Platinum, and Limited trims now feature a new horizontal appliqué on the tailgate to set them apart from less expensive variants, and there are as many as six all-new wheel designs ranging from 17 to 22 inches in size.
Interior styling
To be honest, the interior styling enhancements are minimal and are pretty much restricted to a pair of new trim colors for the seats. This means the Platinum now gets a Dark Marsala hue option, while the opulent Limited trim now has an available Navy Pier colour theme. Sport and Lariat Sport models are available with faux-carbon-fibre appliqués, while there are new seats that are specific to the King Ranch trim which that have very appropriately been called Kingsville.
Technology and feature enhancements
If you thought the F-150 already had a dizzying list of standard and available technology features and equipment, prepare for things being ramped up another notch for the 2018 model year. The adaptive cruise control feature has been updated and enhanced so it can now bring the truck to a complete stop in heavy traffic, and a pre-collision-assist system with pedestrian detection is also being made available. A 4G LTE Wi-Fi hotspot is another welcome addition that allows the connection of up to 10 wireless devices inside the cab, and a very high-quality Bang & Olufsen audio system is also now available for even better sound. Safety remains an important consideration as blind-spot monitoring, lane-keeping assist and a 360-degree camera remain available, while Apple CarPlay and Android Auto connectivity is also still on the list.
The big, powerful news
Perhaps the biggest news for the new model year is the new engine enhancements. A new direct-injected 3.3-liter V-6 unit is coming in to replace the current 3.5-liter V-6, which will produce at least as much power as the outgoing unit but will inevitably now be even more fuel-efficient. A 2.7-liter EcoBoost V-6 will also be available with port and direct-injection technology, the ubiquitous 5.0-liter V-8 is enhanced with more horsepower and torque, while the 3.5-liter EcoBoost V-6 stays as great as it already is. All EcoBoost V-6s and V-8s will also be paired with Ford's excellent new 10-speed automatic transmission already employed in the F-150 Raptor, and Auto Start-Stop Technology is now standard across the entire engine lineup.
But what will cause the biggest stir is the F-150 now finally joining the ranks of half-ton diesels with the introduction of a 3.0-liter V-6 Power Stroke diesel engine option. No hard and fast numbers are available at the moment, but we have to expect class-leading levels of power and fuel economy from this welcome and long-awaited addition to the F-150 lineup.
For more details and to be at the front of the line for a test drive in the 2018 Ford F-150, get in touch with us here at Merlin Ford Lincoln today.