Ford Roush Performance Mustang and F-150 Dealer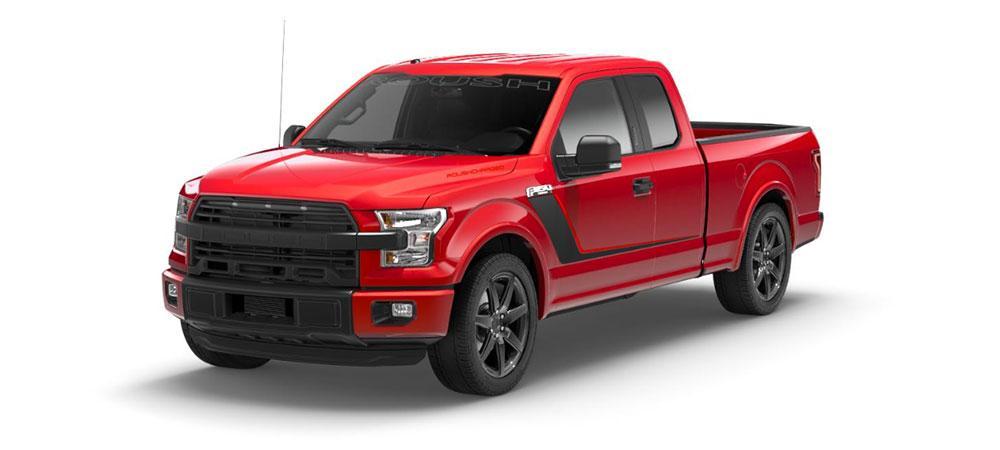 Merlin Ford Lincoln has become a dealer for Roush Performance in Saskatoon. Roush is a name well-known to any NASCAR or Ford performance fan. Merlin Ford Lincoln has available the full-line of Roush F-150 pickups and Roush Mustangs, including the 2017 Roush Stage 3 Mustang, which is a state-of-the art muscle car that combines world-class handling with V8 power. The 5.0L V8is fitted with a Roush Performance R2300 TVS supercharger and delivers 670 horsepower– more horsepower per litre than any other muscle car on the market.
Stage 1 and Stage 2 Mustang Packages Available
The Roush Stage 1 Mustang utilizes the lightweight and efficient 310 horsepower 2.3 L turbocharged EcoBoost engine. With the addition of core and optional Roush body and chassis components, the Roush Stage 1 Mustang is transformed into a true performance vehicle, blending the line between a race car and a road car.
Stage 2 Roush Mustangs are powered by the 5.0L V8 engine that develops 435. The core and optional Roush body and chassis components thoroughly transform the Mustang. Roush body components add race-inspired styling, while the upgraded Roush suspension paired with upgraded wheels and tires significantly increase grip.
Two Rear Suspension Options
To take full advantage of the Mustang independent rear suspension, buyers can select one of two spring and damper packages. Standard on Stage 2 and 3 Mustangs is the single adjustable coil-over suspension. Optional is the "TrakPak" three-way adjustable coilover suspension that has been specially-tuned to achieve 1.07g on the skid-pad.
Roush Performance now offers several new ways to add further customization to a Roush Mustang, including newly-designed side graphic for Mustangs, an available low-gloss black rear decklid spoiler; optional coil covers with a new red-and-black design (V8 models), and available ROUSH hood strut lift assist and a ROUSH front strut tower brace.
Roush Active Exhaust can be Custom-tailored by the Driver
The ROUSH Active Exhaust system gives the driver four selectable options: Touring mode has a subtle understated tone; Sport mode is a dynamic mode while Track mode is tuned for maximum performance and sound. There's even a Custom mode that allows the driver to custom program a sound map from an Apple device.
The highly-customizable 2017 Roush F-150 can be built from a variety of Ford F-150 bases, and features a Roush Front Grille with Clearance Lightning, Roush Front Bumper Cover, and Roush Fender Flares with Clearance Lighting, along with a Roush Side-Exit Exhaust System.
Roush Off-Road Suspension Proves Extra Clearance to F-150 Pickups
Roush has teamed with Fox Shox to equip the Roush F-150 SC with a 2.0 Performance Series Suspension System featuring coilovers and shocks with boots, along with Roush 20-inch wheels mounted with Mickey Thompson Baja ATZP3 305/55R20 tires give the truck an elevated stance and provide increased off-road capabilities.
A Roush graphics package adorns the F-150 including a Roush Hood Graphic, Windshield Banner, Side Rocker Heritage Graphics, and a Tailgate Graphic. There is also an optional bedside off-road-themed graphic.
If you're more interested in staying on the pavement in your truck, Roush has developed the F-150 Nightmare, delivering 600 horsepower from its Eaton TVS supercharged engine. Putting all that power to the ground are black seven-spoke 22-inch wheels. Roush says the F-150 Nightmare is the fastest pickup available, recording a 0-60 time of 4.2 seconds. Who's going to argue with that?
To learn more about the Roush vehicles and products that Merlin Ford Lincoln has available, come down to check out the Mustang, F-150 and performance-enhancing parts for Ford Focus and Super Duty.